The Irish Wolfhound Archives


The Irish Wolfhound
in Irish Life

Tullamore Dew distilled in Tullamore, Co. Offaly, since 1829
Tullamore Dew Trade Mark - Production started 1829
Belleek Pottery Trade Mark - Production started 1863
Irish Army Bronze Medals
Issued on October 6th 1944, in three groupings,
Defence Forces, Civilian Support Organisations and Merchant Marine.
Signed Laurence Campbell R.H.A. (1911 - 1964) Dublin Artist and Sculptor.

Irish Wolfhound Tobacco
(length 4 inches / 10 cm)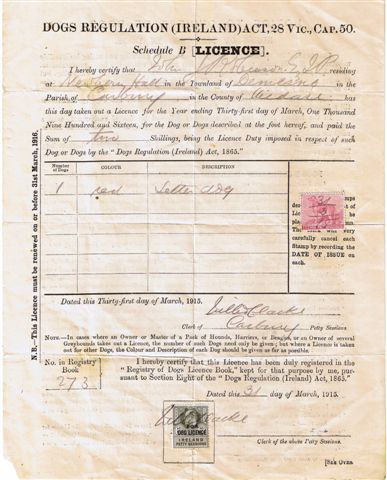 Irish Wolfhound stamp on dog licence Issued on 31st March 1914 at Carbury, Co Kildare.
Received from Mr. R Robinson, Newberry Hall, Carbury. The licence was issued to his father for an Irish Setter.
Abbey Theatre emblem
Photo of £20.00 note
The portrait on the front of the note features William Butler Yeats (1865 -1939) which, together
with a motif based on the Abbey Theatre symbol of the legendary hero Cuchulainn, designed
by Elinor Monsell, is set against the background of an excerpt from Yeats' Deirdre manuscript.
Photo of sixpence.
Sixpence: A Wolf-Hound 1928 - 1971
This species of dog was so particularly identified with Ireland it was felt it ought to be included especially as it lends itself to a noble and artistic treatment for coinage purposes. It was recommended that the denomination be indicated by the word 'Reul' and the figure '6'.

Photos and data on Banknote and sixpence courtesy of:
Veronica McCallion, Currency Issue Department

,

Bank of Ireland

.
Notepaper
From Dr. May's Collection
From Dr. May's Collection
Irish Stamps featuring Irish Breeds 1983
Above - The Dublin Lord Mayor's Chair
Below - A Close-Up of The Mayor's Chair
This chair is in storage at the present time